How e-filing of Pension Returns works?
E-filing of Pension Returns to HMRC
First download the respective spreadsheet template from our website.
Second populate your pension return details onto the spreadsheet and then save it as a CSV file.
Third upload it to our system and we will automatically convert it into an XML file and e-file it for you.
Fourth is download or print out the successful e-filing certificate.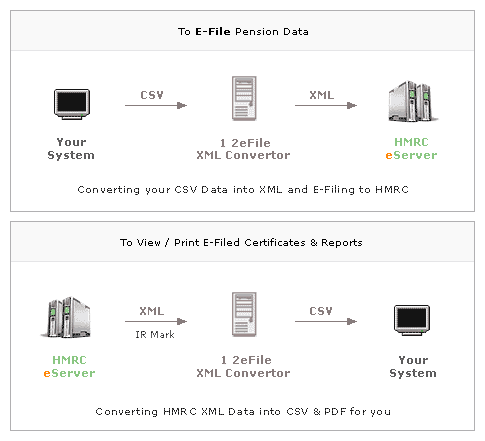 The Pension Returns e-filing we provide include the following:
Accounting for Tax (Pension Company)
Accounting for Tax (Insurance Company)
Pension Return (Occupational)
Pension Return (Non-Occupational / SIPP)
Pension Amend Scheme
Add Pension Scheme Administrator
Associate Pension Scheme Administrator
Change Scheme Administrator/ Practitioner