How e-filing of CT and iXBRL Accounts to the HMRC works?
From April 2011 Corporation Tax and the Company Accounts were no longer accepted by HMRC in a paper format. These documents now have to be e-filed to the HMRC. www.1 2eFile.com provides data conversion intelligence capable of converting your CT600 and its supplements into an XML format, further combining these with your Computation and Accounts in an iXBRL format, and then e-filing them in one go to the HMRC.
To e-file your Corporation Tax returns to the HMRC you need to include 3 documents and e-file them all at once. These 3 documents are:
Annual Accounts in an iXBRL format
Computation of the Accounts in an iXBRL format
CT600 and its supplements in a CSV or XML file format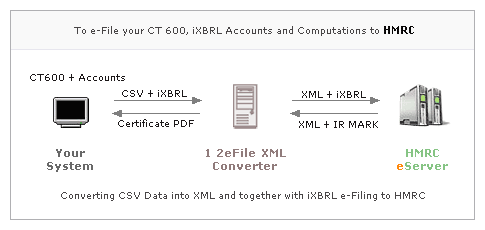 Once you upload these documents www.1 2eFile.com will first convert all 3 into HMRC's required XML file format. We will validate the 3 documents against HMRC's business rules. If any files are not in order the system will automatically alert you on the fly and point out where the errors are. If the files are fully in compliance with HMRC's format we will give you the green light to efile them. Before you click the green 'GO' button the system also allows you to make a final check on the CT and Accounts documents in a PDF before you commit to e-file the documents. Once the final approval is OK you can electronically file all 3 documents at once with the XML submission protocol we have with HMRC.
Please note, we do not provide iXBRL conversion but we do provide the e-filing submission protocol to deliver them electronically to the HMRC. This means you first need to get your Accounts and Computation converted into iXBRL before you upload them to our system. However, we can convert your CT600 and the respective supplements from CSV to XML, so you can simply upload your CT600 in a CSV format and we will convert this to the HMRC required format.
After the successful e-filing of your documents we will issue you with an indisputable proof of e-filing certificate, containing information of what you e-filed, the timestamp and the HMRC Marks etc.