e-filing of iXBRL Accounts to Companies House
E-filing your iXBRL Accounts to Companies House is simple because our system will take care of all your e-filing protocol and delivery needs. There are 2 documents you need to prepare for e-filing to Companies House. These documents are:
The Company Accounts in an iXBRL format
The Form Header in a CSV format
(The Form Header contains the following information obtainable from Companies House: Company Authentication Code, Company Number, Company Name)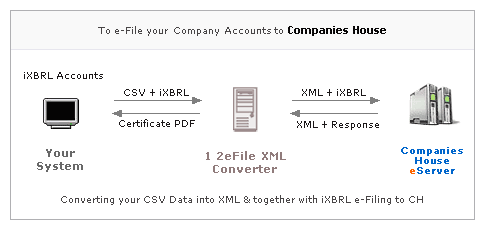 Once you upload these documents to our website, www.1 2eFile.com will first convert both documents to the Companies House required XML file format. We will validate the 2 documents against Companies House business rules. If any files are not in order the system will automatically alert you on the fly and point out where the errors are. If the files are fully in compliance with Companies House format we will give you the green light to file them. Before you click on the green 'GO' button the system also allows you to make a final check of the Accounts documents before you commit to e-file the documents. Once the final approval is OK you can electronically file both documents at once with the XML submission protocol we have with Companies House.
Please note that we do not provide iXBRL conversion but we do provide the e-filing submission protocol to deliver them electronically to Companies House. This means you have to first convert your Accounts into an iXBRL file before you upload them to our system. However, we are able to convert CSV into XML, so you can simply upload your Form Header in a CSV format and we will convert this to the Companies House required format.